Are you looking for the best WooCommerce plugins to improve sales and conversions on your store site?
Although WooCommerce offers everything to run an eCommerce store website, it won't be enough for you to succeed in the long run. With the rising competition in the market, you have to stay ahead of your competitors.
In this article, we've compiled a list of the 15 best WooCommerce plugins to skyrocket your sales.
Read along...
1) Yoast SEO
If you want to improve the SEO performance of your website, you'll need this plugin. This is one of the most feature-rich SEO plugins for WordPress websites. Yoast makes it easy for beginners to manage the SEO like a pro.
It takes care of all your SEO requirements and helps you rank better in search engine results. The plugin helps you manage on-page SEO and technical SEO with automated technical SEO improvements and suggestions.
This plugin helps you produce good quality content and analyses your content in terms of SEO parameters and readability parameters. Although you are getting basically everything you need to rank higher with the free version, you can upgrade to premium for advanced tools and improvements. The plugin also offers some add-ons for extended functionality.
↓↓↓
2) MailPoet
Even though it may seem like old school technique, email marketing is a gem for eCommerce websites. This WordPress email marketing plugin lets you easily manage your marketing campaigns with its advanced features.
The plugin lets you create and add subscription forms to your website and grow your subscribers count. You can send automated welcome emails to your newly joined customers. It also allows you to build and send newsletters to your readers. The plugin offers customizable templates for email and subscription forms, so you don't have to worry about creating one from scratch.
With the free version, you can manage up to 1000 subscribers and you can upgrade to the premium when you have crossed the limit. The plugin offers basic engagement statistics to help you make an informed decision for your business.
↓↓↓
3) LiveChat – WP live chat plugin for WordPress
Communication is very important for every business to succeed and stay ahead of the competition. This WordPress live chat plugin helps you easily manage communication with your customers.
The plugin lets you send personalized messages to your customers based on different criteria. You can use a chat widget as a contact form for offline messages and enable your customers to subscribe to newsletters and mailing lists.
With this live chat plugin, you can provide 24×7 customer support for your customers. You can deal with presale queries, technical issues, and other communications easily. Even if you are offline, your customers will be able to message and you can reply to them when you come online. The plugin ensures that you don't miss any queries from your customers.
↓↓↓
4) Contact Form by WPForms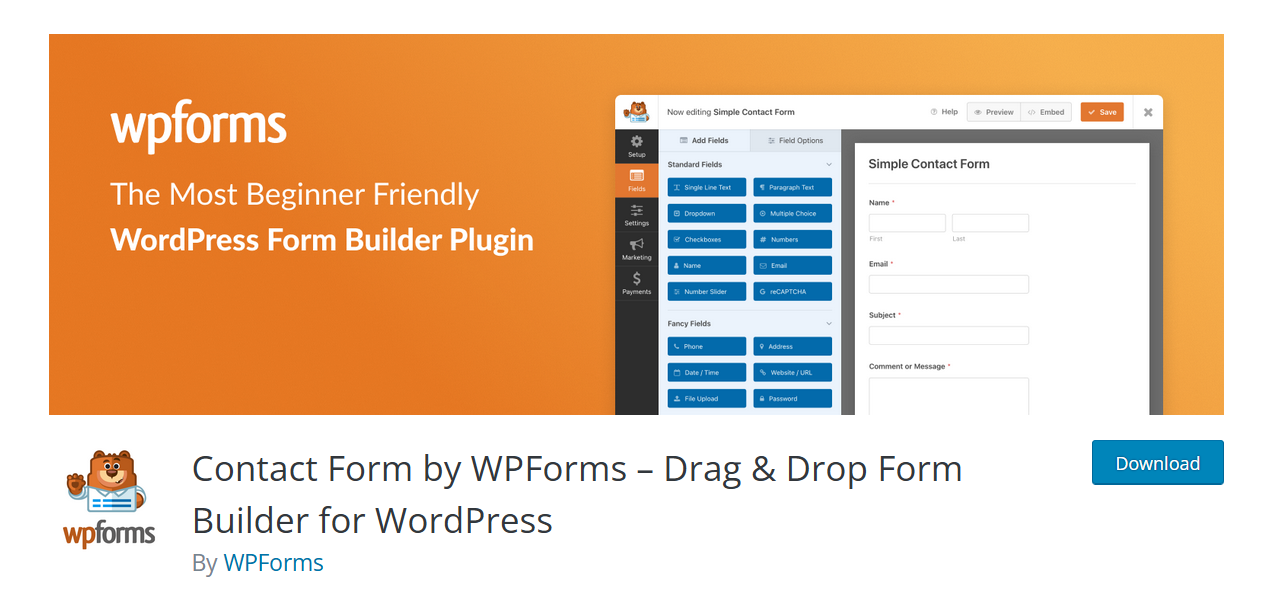 No matter what you sell on your WooCommerce store, you need a form plugin for your WooCommerce site. This WooCommerce form builder plugin lets you create beautiful forms on your store site. The plugin is beginner friendly and you don't need any coding skills to create forms.
With this plugin, you can create different types of forms on your website. You can create payment forms, contact forms, donation forms, etc. The plugin offers different pre-built templates that you can use to create forms. It also provides anti-spam protection for your WooCommerce forms.
You can create survey forms using this plugin and analyze the data easily and make informed decisions for your store site. The interactive form layouts feel more human and increase the overall completion rate.
You can allow your site visitors to save their progress while filling out the form so that they can restore their entries anytime they want with the click of a button.
↓↓↓
5) OptinMonster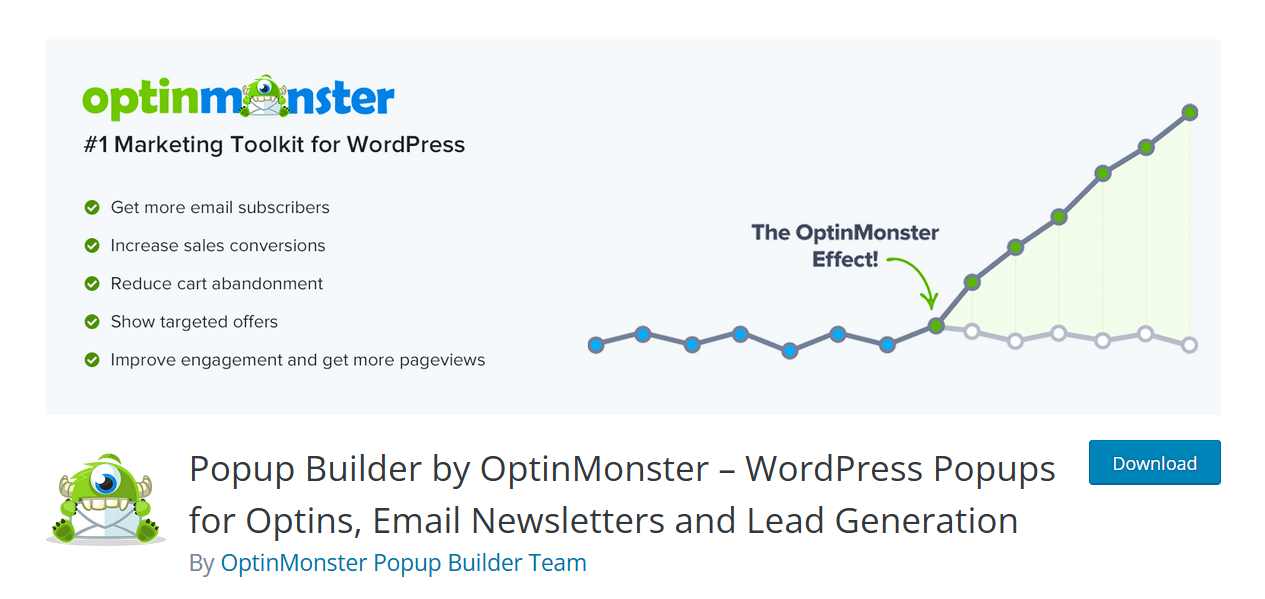 This is one of the most advanced marketing tools available for WordPress websites. The plugin comes as a package of tools made to bring better results for your business. You can employ different marketing campaigns for your business using this plugin.
The plugin offers everything you need to grow your subscriber base and increase sales and conversions on your WooCommerce store site. You can create different types of popups for your store using this plugin.
This plugin lets you create responsive popups on your store that look great across all devices. You can create gamified interactions with spin-a-wheel popups to increase user engagement on your website. The drag-and-drop interface of this plugin makes it easy for beginners to create popups and other marketing campaigns.
↓↓↓
6) Web Push Notifications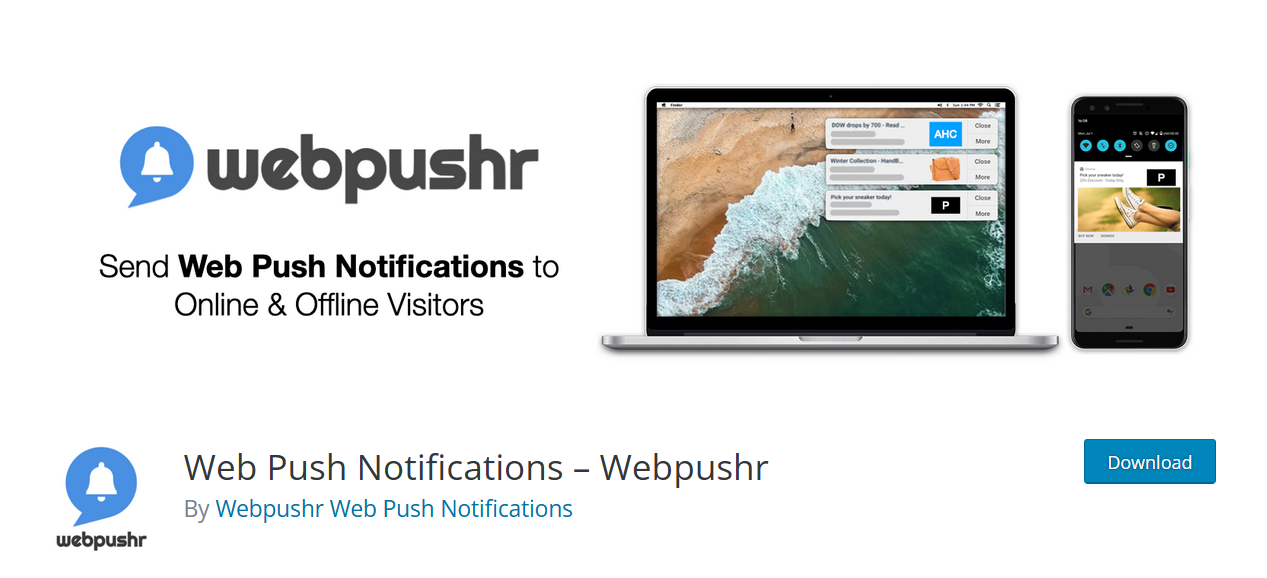 This WordPress push notification plugin lets you send browser push notifications to your site visitors across all popular browsers. The plugin is easy to set up and supports both HTTP and HTTPS websites.
A main advantage of using push notifications is that your website visitors will get these notifications even when they're not viewing your website. This can significantly increase your website traffic, and site visitors count.
With the free version of this plugin, you can manage up to 10,000 users. You can configure automated push notifications so that every time you publish a new post on your website, your site visitors will receive a notification on their browser.
↓↓↓
7) RafflePress
Are you looking to conduct contests and giveaways on your website? You need this plugin for sure. This WordPress contest plugin lets you create contests and giveaway campaigns on your WooCommerce site.
There is no better way to increase user engagement on your website than by creating contests and giveaways. Customers love giveaways, so it is an effective strategy to create more sales on your store site.
The plugin makes it easy for you to create giveaway campaigns using its drag-and-drop interface. It is more focused on bringing results to your site than just running contests. With this plugin, you can grow your subscriber count, create more user engagement, and increase your website traffic.
↓↓↓
8) FOMO & Social Proof Notifications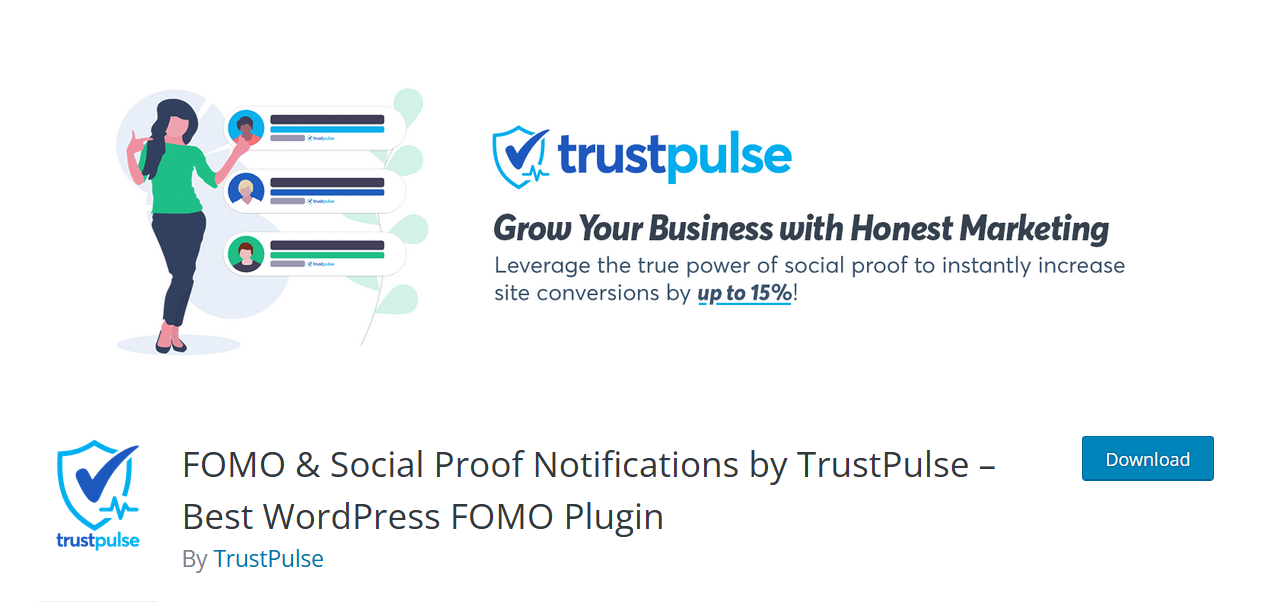 This WordPress FOMO plugin can bring a big difference to your store conversion rate. The plugin helps you create a fear of missing out effect on your store site by showing new signups, purchases, and subscriptions. This also creates social proofing for your store products.
Your customers are more likely to trust social proof and public responses than paid advertising. You can leverage the FOMO and make your customers proceed to checkout. The plugin provides real-time event tracking and shows what users are doing on your site.
You can showcase new signups and purchases on your website and build trust for your business. The plugin is beginner friendly and very easy to use. You don't need any coding skills to configure this plugin.
↓↓↓
9) Smart Coupons for WooCommerce
Smart Coupons is an advanced WooCommerce coupon plugin that offers additional features to the default coupon system in WooCommerce. It lets you create different types of coupons for your WooCommerce store.
You can create WooCommerce BOGO Coupons, giveaway coupons, cart abandonment coupons, sign-up coupons, and much more. The plugin offers some customizable coupon templates to help you create beautiful coupon vouchers.
WooCommerce smart coupon is available in both free and premium versions. The free version lets you create basic BOGO coupons and other discounts whereas, with the premium version, you will get advanced BOGO options and coupon restrictions.
↓↓↓
10) WooCommerce Gift Cards
There's nothing like WooCommerce gift cards which is more rewarding to both store owners and shoppers. Customers love gift cards, it gives a convenient way to send gifts to their loved ones.
This gift cards plugin for WooCommerce lets you easily create and manage beautiful gift cards for your WooCommerce store. The plugin is equipped with 20+ free templates based on different categories for creating gift cards.
You can create custom gift cards and let your customers buy, redeem and share gift card credits from your store site. The plugin also lets you manage user credit balances right from the plugin settings page.
↓↓↓
11) WooCommerce Best Sellers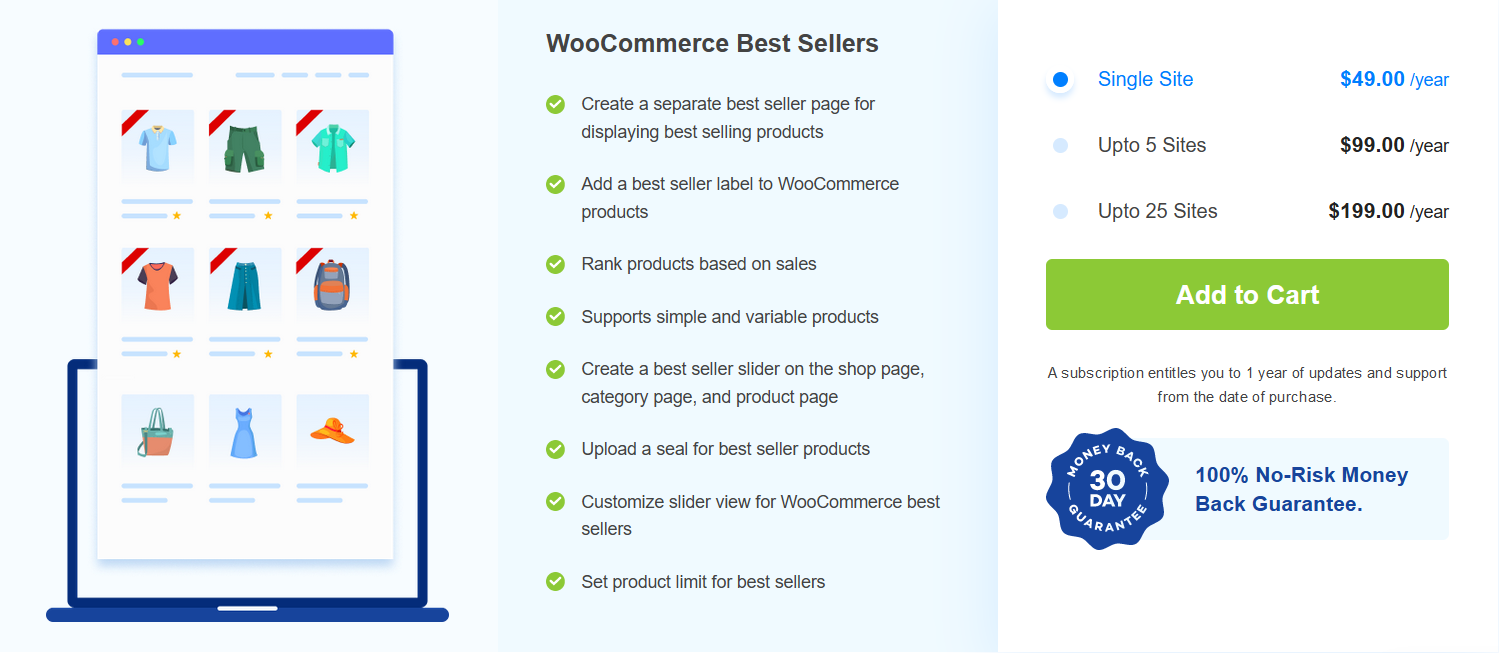 Some products on your store site may have more sales than others, they're known as best sellers. You can make top-selling products on your store stand out with the WooCommerce best sellers plugin.
The plugin lets you highlight best sellers on your store with labels, sliders, and custom seals. You can rank products based on sales and display the ranking position on your store site. It supports both simple and variable products to be displayed as best sellers.
You have the option to choose best sellers based on total sales or sales for a particular period. Also, set the maximum number of products to be displayed as best sellers.
↓↓↓
12) Frequently Bought Together for WooCommerce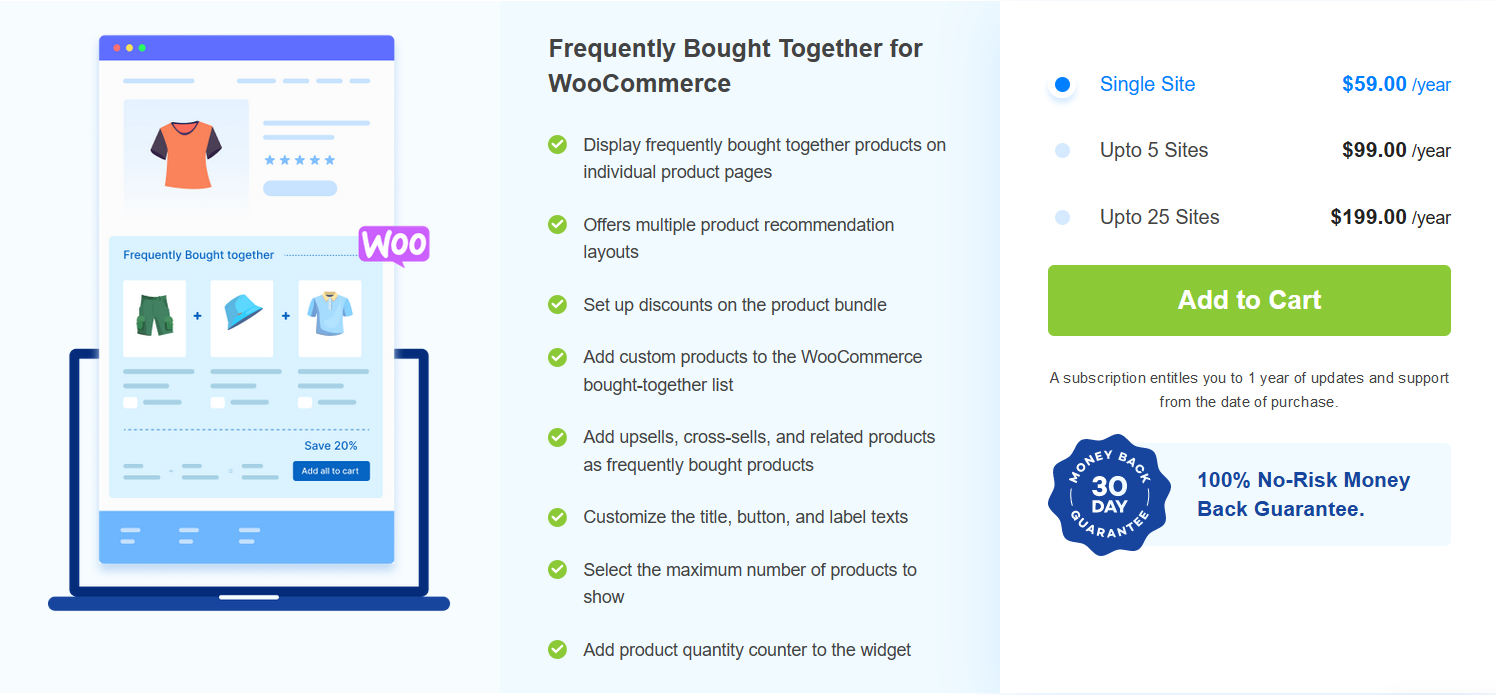 Product recommendations are a proven strategy to get more upsells and cross-sells in WooCommerce. This WordPress product recommendation plugin lets you add a frequently bought-together widget to your WooCommerce store.
Your customers are already familiar with the frequently bought together section, so it can improve the shopping experience on your store site. With this plugin, you can add custom products to the WooCommerce bought-together lists and promote upsells, cross-sells, and related products.
You have the option to customize the title, button, label texts, etc. The plugin lets you set the maximum number of products to be shown in the frequently bought-together widget. Apart from these options, you can also create discounts for the products in the bundle.
↓↓↓
13) Display Discounts for WooCommerce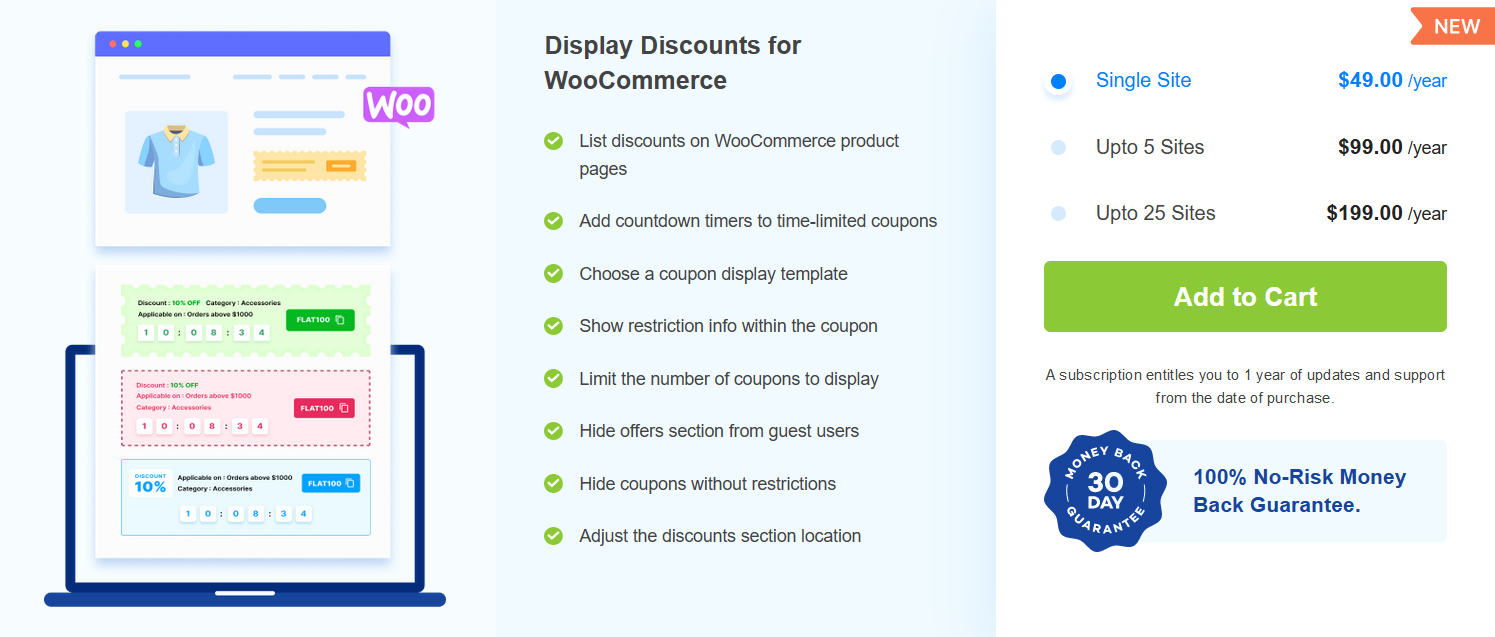 What is the point of having discounts and coupons on your website, if your customers find it difficult to use them? This WooCommerce coupon listing plugin will come in handy in those situations.
The plugin helps you promote your WooCommerce coupons on your product pages and help your customers easily find them. Your customers can easily find the best discounts right from the product page itself.
The plugin lets you add countdown timers for time-limited coupons. You can choose from different templates for listing your available coupons. It also lets you hide coupons without restrictions and show the coupon condition within the coupon on the product page.
↓↓↓
14) WooCommerce Request a Quote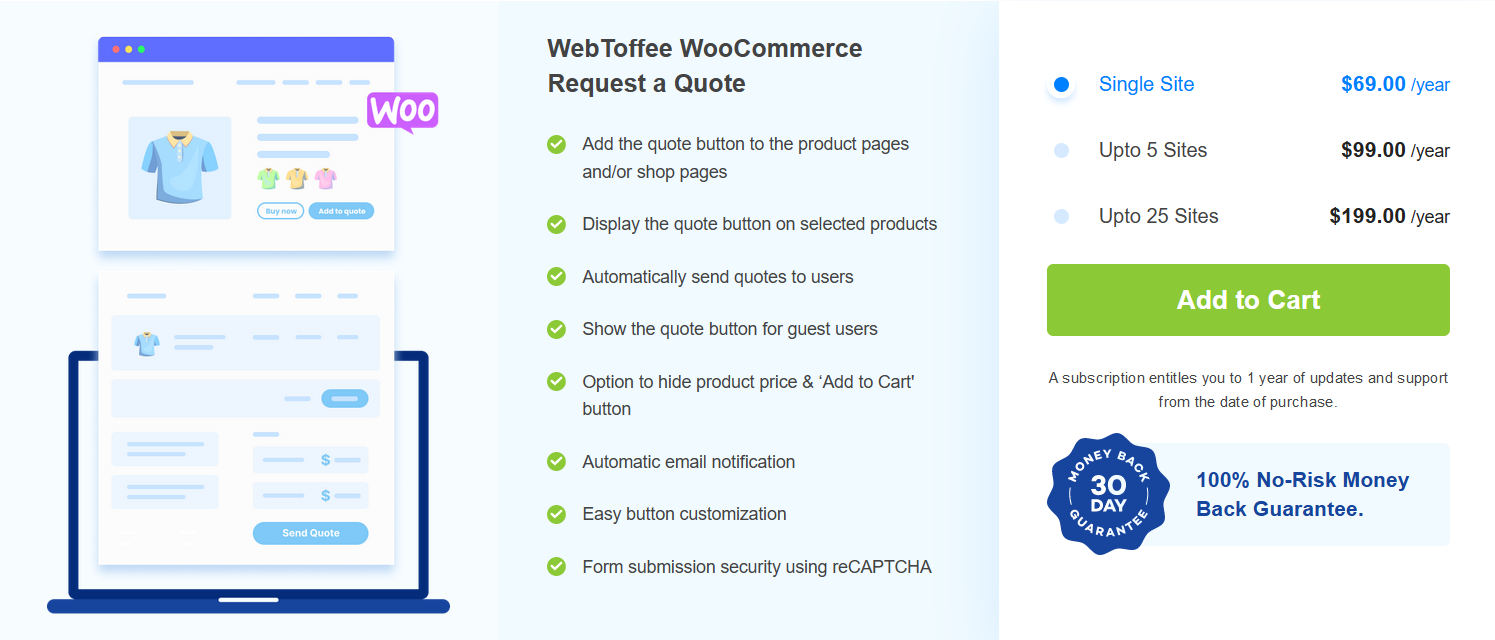 This WooCommerce quotes plugin enables you to receive quote requests for your store products. You can let your customers ask for quotes for the products on your store site. The plugin adds an 'add to quote' button on your store pages.
You can hide the 'Add to cart' button and replace it with an 'Add to quote' button. The plugin lets you display the quote button only for selected products or display it sitewide. You have different customization options for the quote buttons.
The plugin allows you to automatically send quotes to your customers with the default prices. You can add reCAPTCHA verification to your quote forms to prevent them from spamming.
↓↓↓
15) WooCommerce Product Feed & Sync Manager
This WooCommerce product feed plugin helps you generate product feeds for Facebook Shops and Google Shops. You can promote your store products on Google's free listings and Facebook Business Manager.
The plugin lets you add additional fields to the WooCommerce product page and has advanced product filtering options for generating product feed. It has multiple auto-feed refresh intervals and support for Google local product inventory feed.
Apart from the product feed method, the plugin also allows you to sync WooCommerce products to the Facebook catalog using the FB catalog sync manager. The plugin is compatible with WPML and provides support for multiple languages and currencies.
↓↓↓
Conclusion
It takes constant effort to be on top of the competition for eCommerce business. You may depend on different strategies to find out what works best for you. WooCommerce plugins give you extended features for your store site to improve sales and conversions.
The plugins we mentioned in this article offer different features and functionalities. Some of the plugins listed here require a premium subscription; before you proceed, make sure what you lack on your store and can sort out your problems.
Most of the plugin vendors have a 100% money-back guarantee (time-restricted), so if you feel something doesn't work for you, you can ask for a refund.
What are your thoughts on this article? Let us know in the comments.